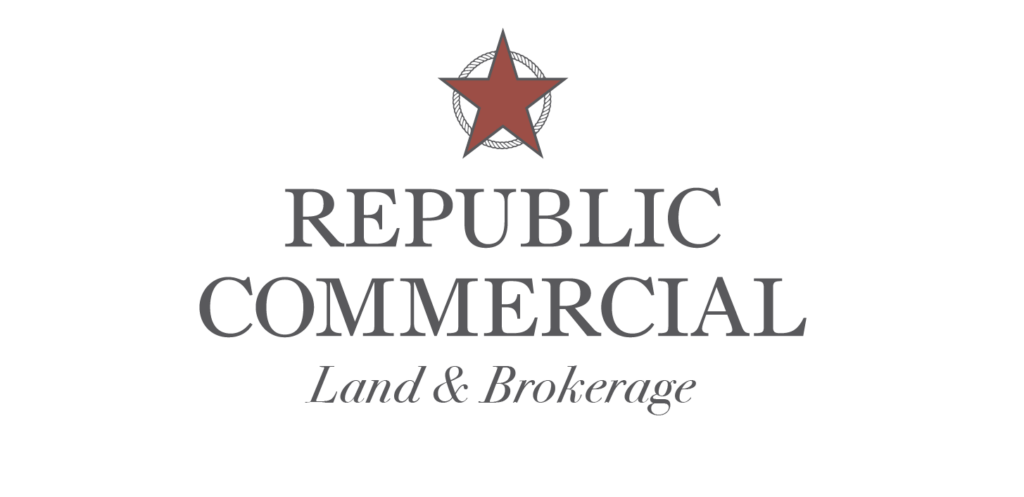 AUSTIN- March 2023. Republic Ranches announces the launch of Republic Commercial Land & Brokerage, a newly formed commercial and transitional land brokerage enterprise. The real estate brokerage company is headquartered in Austin, TX under managing directors and partners Margaret Riggins, formerly of Riley McLean Land, and Jordan Johnson, formerly of McAllister and Associates.
Republic Commercial Land & Brokerage was formed to provide a commercial arm to Republic Ranches assisting clients with the acquisition, disposition, and valuation of commercial and transitional land assets. The newly formed company partners are Jeff Boswell, Charles Davidson, John Wallace, Bryan Pickens, and Mark Matthews of Republic Ranches, and Margaret Riggins and Jordan Johnson.
"Jordan and I are excited to partner with Republic Ranches to expand the Riley McLean analytical brokerage model from Central Texas to other major metropolitan areas across the state of Texas through the continued use of our proprietary mapping technology," said Margaret Riggins. "This proprietary GIS mapping system allows our clients a unique advantage in making investment decisions based on the most comprehensive, real-time and AI-enhanced market data available."
Republic Commercial Land & Brokerage (along with Republic Ranches) will have exclusive licensing to a proprietary GIS mapping system created by Tim Riley and Carlotta McLean, founders of Riley McLean. Moving forward, Tim Riley and Carlotta McLean will be focusing on Peregrine Land Investments, a tech-enabled land investment firm they founded in 2020, along with partners Stormey Barton and Noah Pape. They will continue to offer support to Republic Commercial and their historical brokerage clients to ensure a smooth transition and continued collaboration as they pivot their brokerage careers to Peregrine Land Investments.
"Offering both commercial and rural marketing platforms will allow us to expand our scope of land brokerage and gives us a more comprehensive state-wide footprint that sets us apart from other brokerage companies," said Jeff Boswell, Republic Commercial Land & Brokerage partner.
The team at Republic Ranches will continue to grow their successful farm and ranch brokerage, enhancing their best-in-class expertise in the rural markets with the same proprietary cutting-edge technology to further their service capabilities for their farm and ranch clientele.
"As we join forces to form Republic Commercial Land & Brokerage, I know that we will continue to deliver an unparalleled experience for our clients," said Jordan Johnson. "We are excited to embark on this new journey and further expand our reach and services in Texas."
For more information on Republic Commercial Land & Brokerage, please visit www.rclb.com or contact Margaret Riggins at 512.960.4676.
###
ABOUT REPUBLIC COMMERCIAL LAND & BROKERAGE
Republic Commercial Land & Brokerage was founded in 2023 as a commercial and transitional land brokerage enterprise. Formed as a commercial arm of Republic Ranches, Republic Commercial Land & Brokerage will expand its commercial and investment services and expertise throughout the state of Texas. Through the use of their proprietary GIS mapping system, clients are provided with market data in real time to help drive informed real estate decisions. For more information on Republic Commercial Land & Brokerage, visit www.rclb.com